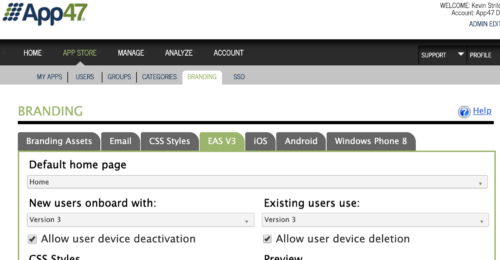 The last couple of weeks, we've taken a closer look at version 3 of the App47 App Store as we slowly begin the phase-out of version 2, with plans to take it completely offline at the beginning of next year.
Among myriad other features, V3 adds new security features, streamlines onboarding and app selection for new users, and simplifies the development workflow for administrators. All-told, we're very happy with V3 of our App Store. Our customers are, too!
At this point, we are recommending that all of our customers migrate to V3 if they haven't already. Don't worry: there's plenty of time to do this, and you can upgrade in phases. If you haven't yet upgraded to V3, here's how to do it:
Email support@app47.com to kick off the process. After you email with your request, someone from our support team will perform the upgrade and let you know that you've been granted access to the new version.
Navigate to the Branding tab under App Store, then click the EAS V3 subtab; through this tab, the CSS Styles component, and the Preview bottom, you can design your new UI so that it fits in with your company's style.
When you're done, navigate to App Store and then Users. From here, you can pick select users who should see the new design first. To change their version to V3, click Edit User and then change their UI to Version 3. We recommend rolling the new version out to select users at the start to give time to get their feedback and ensure there are no hiccups as they learn how to navigate the new App Store. After you've changed a user's version, that's what they'll see the next time they open their store.
Take a moment to edit the default starting page for your users; we talked in detail about the various options for organizing you App Store last year. If you'd like to edit featured apps, categories, etc., navigate to App Store, Branding, under the EAS V3 subtab and make your changes.
Take some time to garner feedback from your users who you've upgraded to V3. Again, you'll want to ensure the rollout works for them before you upgrade your entire organization, and you'll want your administrators to be comfortable with managing the new version before you make it available for everyone.
Once you are ready to make the switch, navigate to the EAS V3 subtab of Branding again. From here, you'll be able to change the version of the App Store that new users onboard with (New Users Onboard With — V3) and that everyone in your organization uses (Existing Users Use — V3). When all existing users are on V3 and new users are set to onboard with the latest version, congratulations! You've now fully migrated over to V3.
If you'd like even more detailed instructions, see our migration overview on our support site here.
As you can see, the process for upgrading to V3 of the App47 App Store is easy. We think you'll find–as many other customers have–that the additional functionality and improved security of V3 make it well worth the upgrade. (And no, migrating to V3 doesn't cost any extra money!)
If you have any questions or concerns, or would like to start the migration process from V2 to V3, reach out to our support team by email at support@app47.com, or log a new support ticket at https://support.app47.com. We'd love to help you migrate to the latest version of App47!