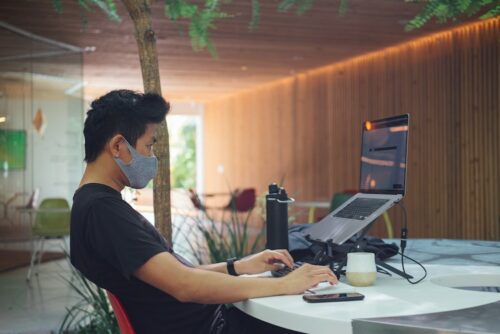 It's no surprise: in a work-from-home world, enterprise mobility is a must-have.
The companies we've seen be most successful in the unprecedented transition from office life to an at-home workforce during the pandemic have, unsurprisingly, been those with the most robust enterprise mobility strategies and solutions in place.
Of course, work-from-home may not be here to stay. High vaccination rates in the United States and Europe have many companies thinking that workers may be back in the office sooner than later, and many are starting to think about what a hybrid model may look like. So is the need for a strong mobility plan going the way of the dodo?
Hardly. As we've said before on our blog, the need for workers to be able to easily work from their mobile devices isn't going anywhere.
And in fact, Joe Walsh, Director of B2B at Samsung, agrees. In a new piece for TechRadar, Walsh argues that enterprise mobility will be essential in a hybrid working model.
His argument for enterprise mobility comes down to two things: productivity and security.
First, regarding productivity, Walsh cites a Samsung survey which found that 70% of workers currently use a personal device for work in some capacity. While this is a security challenge, there's a lot to learn here, primarily that in a hybrid environment, employees want to use the tool that's best for the job. In a hybrid environment, it's no surprise (no matter who owns the device) that employees feel more productive when using mobile devices.
Regarding security, as Walsh notes, "for organizations to successfully deploy a hybrid working model, they must regain control of the devices being used by their network." While we disagree with Walsh on the best solution for that purpose, we agree with him in principle: you absolutely must have a solution in place to manage access to mobile apps and data. Doing so is essential to security and also lets you "take back" ownership over the data your employees access in and out of the office.
As Walsh notes in concluding his article, enterpise mobility has huge benefits. In a survey, 55% of adopters noted that enhanced security is a benefit of a solid EMM platform, and organizations also reported widespread improved collaboration, productivity, and quality of work. Put another way? Having the right enterprise mobility solution in place makes a big difference in a hybrid work world.
We agree with Walsh: as companies start returning employees to work part-time, and implementing a hybrid model in many scenarios, mobile devices are going to be key to meeting employees where they are and helping them be productive regardless of the environment. If you don't have an enterprise mobility management solution in place, there's no better time than now to get started.
Want to learn more about how App47 can help you harness the power of enterprise mobility in today's work environment? Contact us today. We'd love to hear from you!
—
Photo by Paul Hanaoka on Unsplash