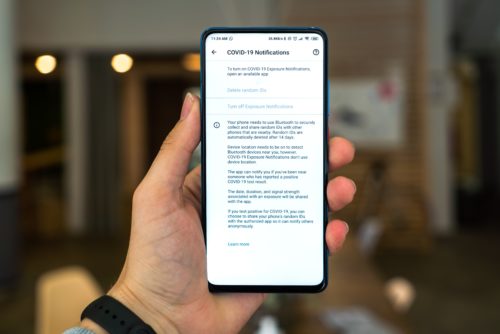 Last week on our blog, we talked about how the U.S. Army is deploying a new mobile app to squad leaders in an effort to help them better connect with soldiers under their command. We always like seeing innovative new uses for mobile apps in the "workplace," wherever that may be, and last week was just one in a long line of examples of new mobile apps.
Previously, we've also talked about the COVID-19 pandemic, and whether remote work is here to stay. Our assessment was that for businesses with a strong mobility strategy, it doesn't really matter how long remote work is around; effective mobile apps distributed to your workforce and constituents means that you're well-prepared whether your people are in the office or at home.
Which brings us to this week.
While companies are certainly already using mobile apps to maintain employee productivity during the pandemic, recently, they've also been embracing mobile apps to assist with COVID-19 tracking to help prevent the spread of the virus as people return back to the office.
Apple and Google partnered together for "Privacy-Preserving Contact Tracing," a joint venture that provides phone users with exposure notifications in concert with governments and health agencies. And, at the individual company level, General Motors provides a great example of how mobile apps can be used to assist with COVID-19 tracking as some companies begin to assess whether it's safe to return back to the office.
Mobile apps are central to two of GM's responses to COVID-19 in the workplace; the first, its open-source contact tracing app called Covid Watch, gives employees real-time social distance alerts, and creates employee records of whom people in the office have been in contact with. The second is a mobile web app that enables employees to print documents without touching the printer's control panel, reducing contact at a high-touch area in most offices.
While these apps are certainly not without their faults–first and foremost, they've raised the attention of privacy advocates who worry that COVID-19 tracking/contact tracing data could end up in the wrong hands–experts nonetheless agree that mobile apps that help with COVID-19 tracking have the ability to be incredibly impactful as companies start to make the transition back to "normal" office life.
If one thing should be clear from our recent posts about the different ways companies are leveraging mobile apps to solve problems, it's that apps are incredibly versatile. Whether you're looking to better connect leadership with other members of the team (as in the case of the new U.S. Army app we mentioned last week) or to track the spread of COVID-19 within your workplace (as we see this week), mobile apps are useful in a wide variety of situations. If you can imagine it, you can probably use an enterprise mobility solution to help manage it.
Want to learn what kinds of problems mobile apps might be able to help you solve? Contact us today. We'd love to hear from you!
—
Photo by Mika Baumeister on Unsplash